Regular price
$4.98
Sale price
$29.89
Unit price
per
Sale
Sold out
     PARANOID P8816 Vintage Sunglass, a timeless accessory that combines retro charm with modern functionality. These sunglasses are designed in a square style, exuding a classic and sophisticated look that suits both men and women.
     Crafted with high-quality plastic frames, these sunglasses are lightweight yet durable, ensuring long-lasting wear and comfort. The square shape of the frames adds a touch of elegance to your ensemble, making a bold fashion statement.
    The lenses of the PARANOID P8816 Vintage Sunglass are made of polaroid material, providing superior optical quality and reducing glare for optimal vision. They are also equipped with UV400 protection, shielding your eyes from harmful UV rays and ensuring comprehensive eye care.
     Embrace the versatility of these sunglasses with their polarized, MIRROR, and anti-reflective attributes. The polarized lenses minimize glare and enhance visual clarity, while the MIRROR coating adds a stylish touch and reduces light transmission. The anti-reflective feature further enhances your visual comfort by minimizing reflections from surrounding surfaces.
     With a lens width of 56mm and a lens height of 45mm, these sunglasses offer ample coverage and protection for your eyes. Choose from a wide range of captivating colors to express your personal style and elevate your fashion game.
     Experience the perfect combination of vintage appeal and modern features with the PARANOID P8816 Vintage Sunglass. Stay protected from the sun's harmful rays while exuding confidence and style. Invest in these sunglasses to enhance your overall look and enjoy reliable eye protection in any environment.
SPECIFICATIONS
Item Type: Sunglasses
Style
:
Square
Model Number
:
P8816
Lenses Optical Attribute
:
Polarized, MIRROR, Anti-reflective, UV400
Lenses Material
:
Polaroid
Lens Width
:
56mm
Lens Height
:
45mm
Item Type
:
Eyewear
Gender
: Unisex
Frame Material
:
Plastic
Certification
: 
CE
Brand Name
:
PARANOID
Features: 
Polarized, UV400. Many colors. Square style. Lightweight. Durable. MIRROR, Anti-reflective.
Please Note:
. Package includes: 1x PARANOID P8816 Vintage Sunglass (see what you choose)
. Not included are any accessories that may appear in the image, unless they are described as included in the package.
. Color: Due to the different display settings of computer monitors and/or mobile devices, there can be a slight color difference.
. Shipping time: Experience the global marketplace at your doorstep! Our direct-from-supplier deliveries bring you products from around the world, with estimated delivery times ranging from 3 days to 6 weeks. Please note that delivery times may vary based on product, supplier location, and seasonal demand. Embrace the anticipation and excitement of receiving unique treasures from afar. For more information see our shipping policy and FAQ. Shop now and let the world come to you!
Share
View full details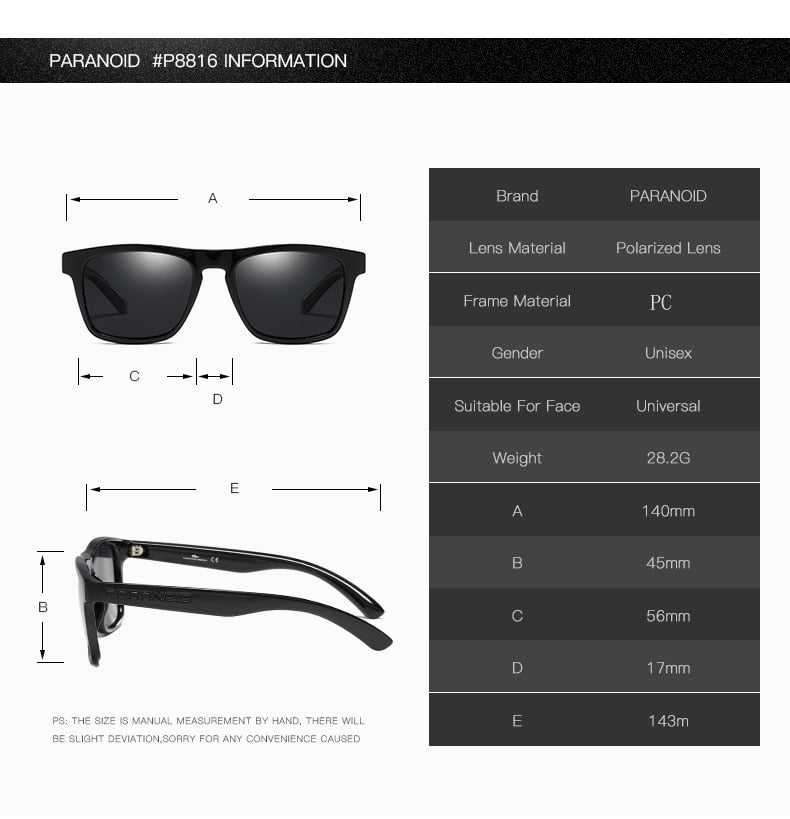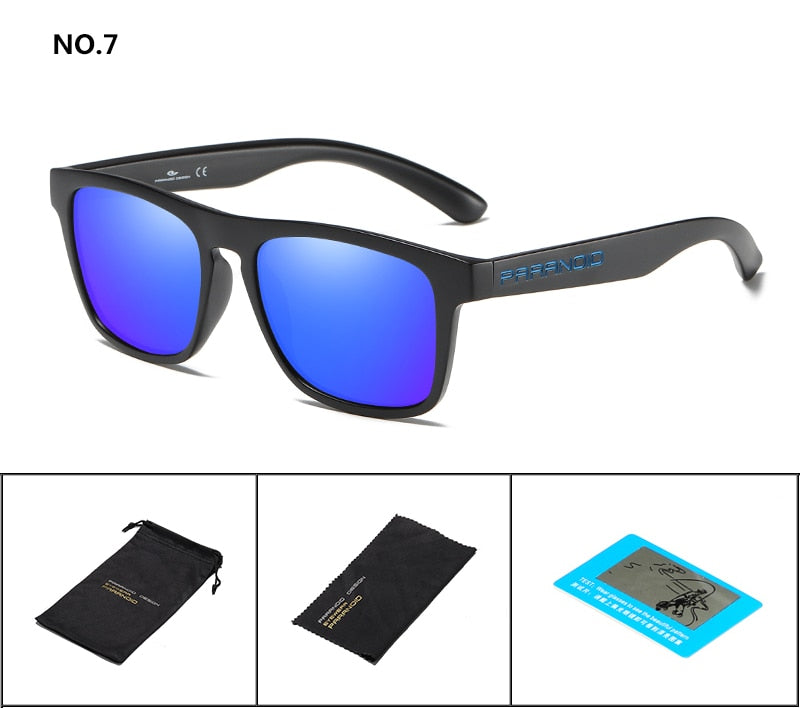 this is my third pair. they look great. definitely going to purchase more.
Super good quality. A success to buy them
They look good quality, very fast shipping and come with their cloth case.
10 seller, super recommended, thank you very much.
All perfect
very good quality for such price